Chinese Language Undergraduate Program Admission Prospectus for Foreigner Students in College of Chinese Language and Culture, Jinan University (CCLC)
发布者: 发布时间:2019-05-08 阅读: 840
The Chinese Language Undergraduate Program in CCLC is now recruiting for new students, you are welcome to join the program and be an undergraduate student of Jinan University.
I. Application
Please register online at our website https:// lxlz.jnu.edu.cn before July 1st 2019 and print out the Application form, then submit the registration documents to the Admission Office 110. (if your documents are not completed yet, you can submit the Application form and your copy of passport first).
However,all the documents should be submitted before the registration day of the antumn semester.
Following are some details of the program:
Item

INFORMATION

REMARK

Application Time

Before July 1st

1. Student must attend a placement test before being admitted.

2. The study duration is 4 years. The administration's based on credit system. The qualified applicants can apply for not attending specified language courses (but they are still required to take examinations of the courses). They will acquire the credits of the courses if they pass the examinations of the courses, so they can fulfill required credits early and graduate in advance. For detailed information please contact the Admission Office.

Application process

Do Application online before the deadline. Print out and submit the signed Application form and documents below to Admission Office Room 110

Application Materials

1. Application Form for undergraduate program (Print out the Application form at https:// lxlz.jnu.edu.cn

2. Original and photocopy of your passport or ID card

3. Original and photocopy of your high school diploma and academic transcript for the three-year high school(should be notarized by the Chinese Embassy and be translated into Chinese or English.)

4. Original and photocopy of relevant certificates on Chinese language learning

5. Original and photocopy of HSK transcript (HSK level 4 or higher)

Application Site

110 Room of CCLC Administration Building
II.Fees Currency: RMB
i. Application Fee:500 Yuan/person;
ii. Tuition: 22000 Yuan/year/person.
iii medical insurance fees: about600Yuan.
iv.Dormitory :
Building

Type

Fee (RMB)

Facilities

Zhong'ai Building

and Xinyi Building

Single Room

12400Yuan/year

/person

Each room has its own bathroom with hot water, air conditioner and internet connection and there are furnitures like single bed, wardrobe, and study table with chair inside. Inside building there are washing machines. Seperated balconies are arranged in double rooms and shared balconies are in every floor for single rooms.

Du'xing Building and Jing'shen Building

Double Room

12000Yuan/year

/person
Note: 1. Deposit:600Yuan.Every resident is to pay RMB 600yuan as a cash pledge when moving in. Beddings are not provided.
2. Please submit your 1 inch photo and 1 copy of passport to our dormitory receptionist.
3. A certain amount of electricity allowance is provided monthly, but residents must pay for any additional usage. The free electricity allowance covers 100 units (kwh) for single room, 50 units (kwh) for double room.
v. Miscellaneous Fees
Total about 1200 Yuan RMB. Charged according to actual cost including the fees of medical examination, Visa, text books, etc.
(visa : 400 Yuan medical examination: 600 Yuan Books: about 200 Yuan.)
III.Undergraduate placement test
i. There are two types of placement test's: the placement test of freshman class;
the placement test of Undergraduate advanced class.
ii. Test Content:Basic knowledge of Chinese, including listening, speaking, reading and writing.
iii.Question Types:Phoneticize Chinese characters、write Chinese characters、Choose the right word in the blanks、choice question、sentence ordering、reading comprehension and writing.
iv.Time: Aug.25th,2019.
v.Books: 汉语教程(修订本)第一册、第二册、第三册,杨寄洲,北京语言大学出版社2006,第二版
发展汉语中级综合(I)、(II),徐佳梅,崔娜,牟云峰,北京语言大学出版社,2012
IV. Registration
Students shall register on Aug.22nd and Aug.23rd, 2019 in person.
V.Contact
Admission Office,The College of Chinese Language and Culture,Jinan University, Guangzhou, Guangdong, P.R.China
Tel: 86-20-8720 5925, Fax: 86-20-8720 6598,
E-mail: ohwy@jnu.edu.cn
VI.Online application.
i. You need to login to website http://lxlz.jnu.edu.cn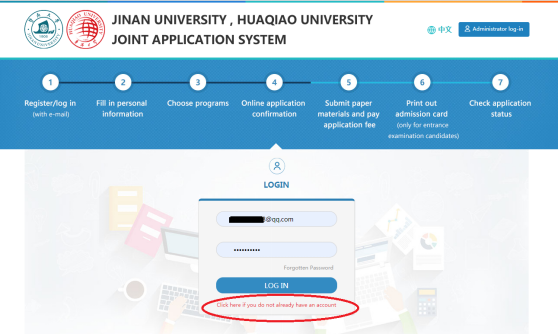 Register an account
ii. Please fill in your information and ensure your information is right.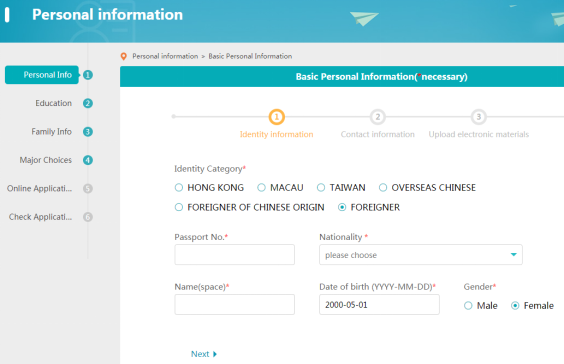 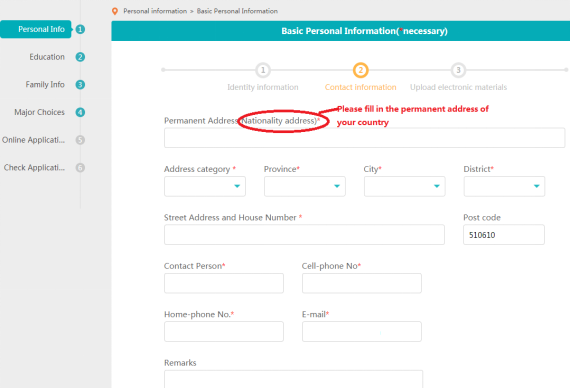 '
Reminder: :Please fill in the permanent address of your country.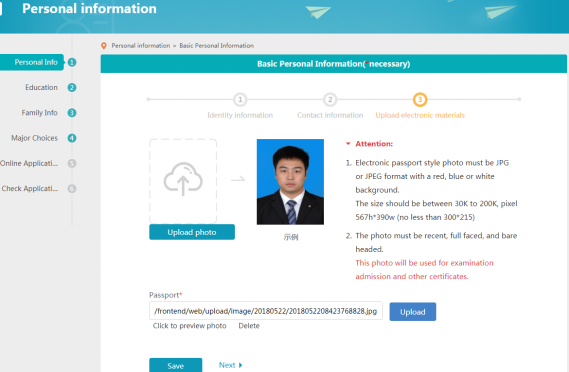 ƒ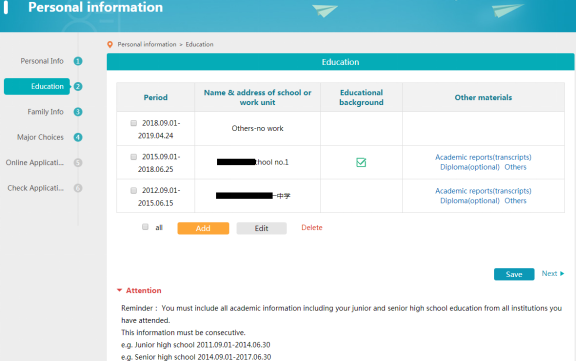 ④
Reminder:You must fill in academic information including your junior and senior high school education from all institutions you have attended.
This information must be consecutive.
e.g. Junior high school 2011.09.01-2014.06.30
e.g. Senior high school 2014.09.01-2017.06.30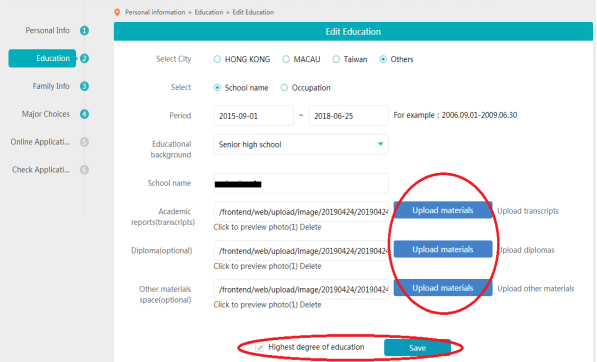 ⑤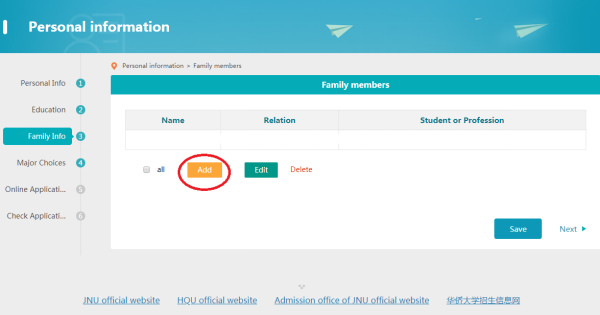 ⑥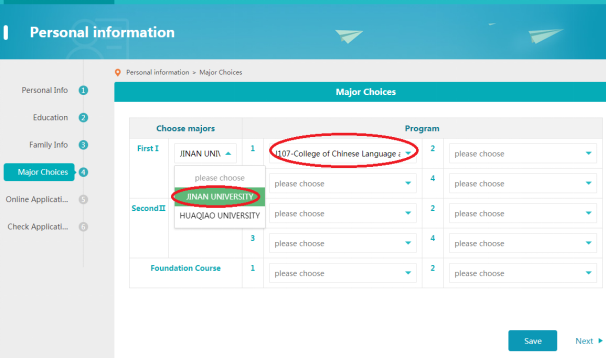 ⑦
Reminder:Choose majors J107-College of Chinese Language and Culture-Chinese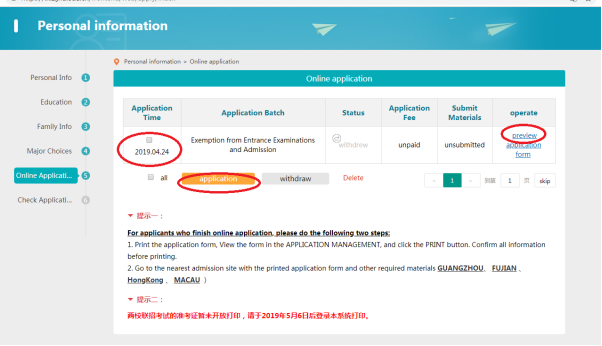 ⑧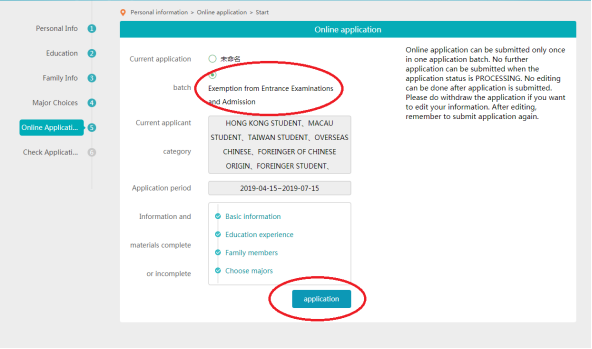 ⑨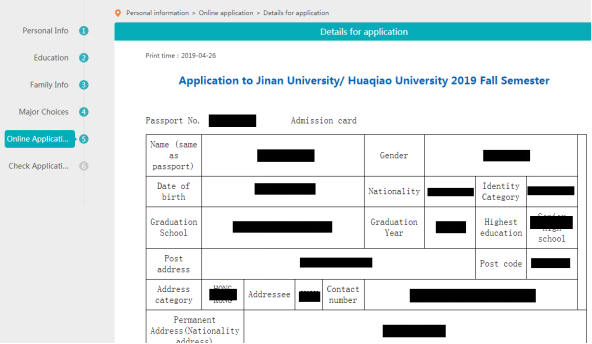 ⑩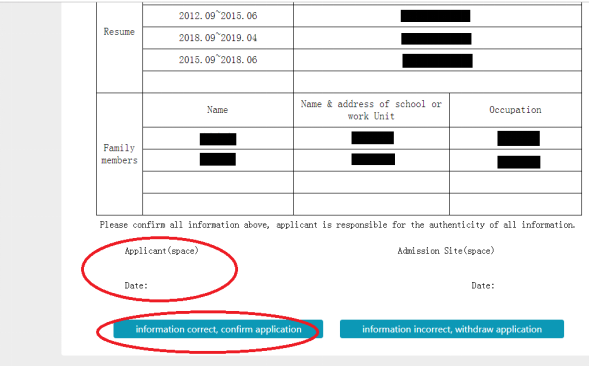 ⑪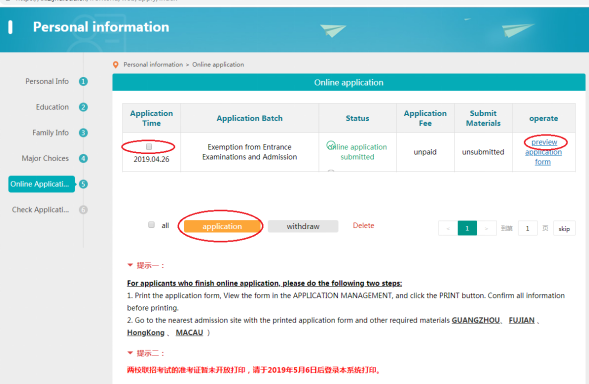 ⑫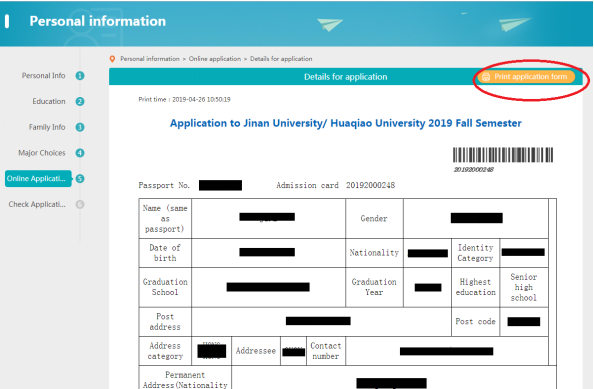 ⑬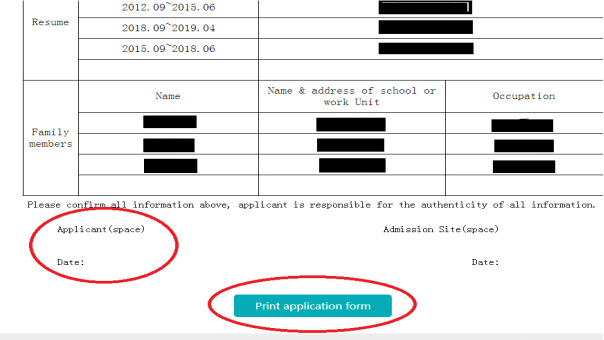 ⑭
Gentle reminder:Please confirm all information above, applicant is responsible for the authenticity of all information.
Information cannot be edited once the application is done. To edit information, please withdraw the application. Submit application again after corrections.
For applicants who finish online application, please print the application form, submit all necessary materials and pay application fee to the admission sites.